The MPR Toroidal RF System provides a natural method to fight aging in addition to offering an effective way to reduce dimples based on a toroidal distribution of radiofrequency. This unique concept allows to achieve an even transmission of the energy and quickly reach the therapeutic temperature. Moreover, it will allow to effectively control that temperature during the treatment.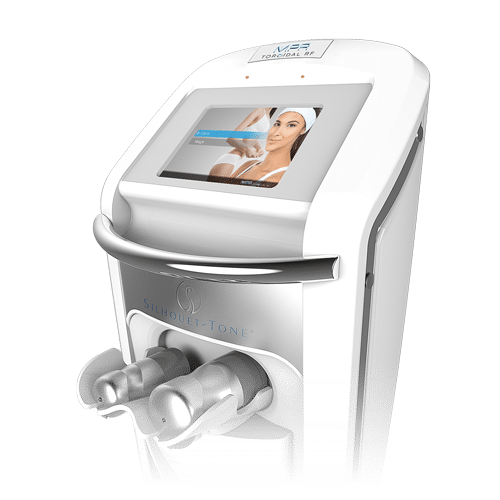 Established in 1965, Silhouet-Tone is considered a leader in medical esthetics science. Manufacturer of medical esthetic equipment and furniture, Silhouet-Tone keeps innovating and brings to the market state-of-the-art devices. Oriented toward excellence, with an eye on safety, all its components meet the highest standards in the industry, and are certified by the trusted international technical consultancy organization and approved by health local authorities. Operating across 53 countries, Silhouet-Tone's headquarters are in Canada with subsidiaries in the United States and Europe.
S.T MEDIC is the medical line of Silhouet-Tone's products, specialized in rejuvenation and toning. It also includes a range of devices providing innovative treatments for skin imperfections and hair removal.
| | |
| --- | --- |
| Voltage: | 120 / 230 V |
| Frequency: | 60 / 50 Hz |
| Intensity: | 1 A |
| Safety level (with grounding): | 1 |
| Outlet in contact with the client: | BF Type |
| Operating Mode: | Continuous |
| Output: | 45 W |
| Tolerance/ Precision of the displayed information: | 15 % |
| Rated load: | 500 ohms |
| Rated output frequency: | 1 MHz |
| Maximum output voltage: | 106 Vrms |
| Protection fuse: | T1.5AL. 250 V |
| Dimensions Width: | 114 cm 45 po |
| Height: | 50 cm (20 po) |
| Depth: | 47 cm 18,5 po |
Frequently Asked Questions
A FOCUSED
TOROIDAL APPROACH
with
| | | |
| --- | --- | --- |
| | by | |